Dear Families:
Last week, this week and next, you will find many of us out in the schoolyard participating in a range of culminating events.
June Share began in the big yard with first grade students introducing their families to the work of the farm. Students watered the plants, composted, washed dishes and rags, collected eggs and prepared food. Parents and friends worked alongside them. Later in the week kindergarten children participated in a green recess experience complete with bubbles, chalking, big blocks, kites, boats and more.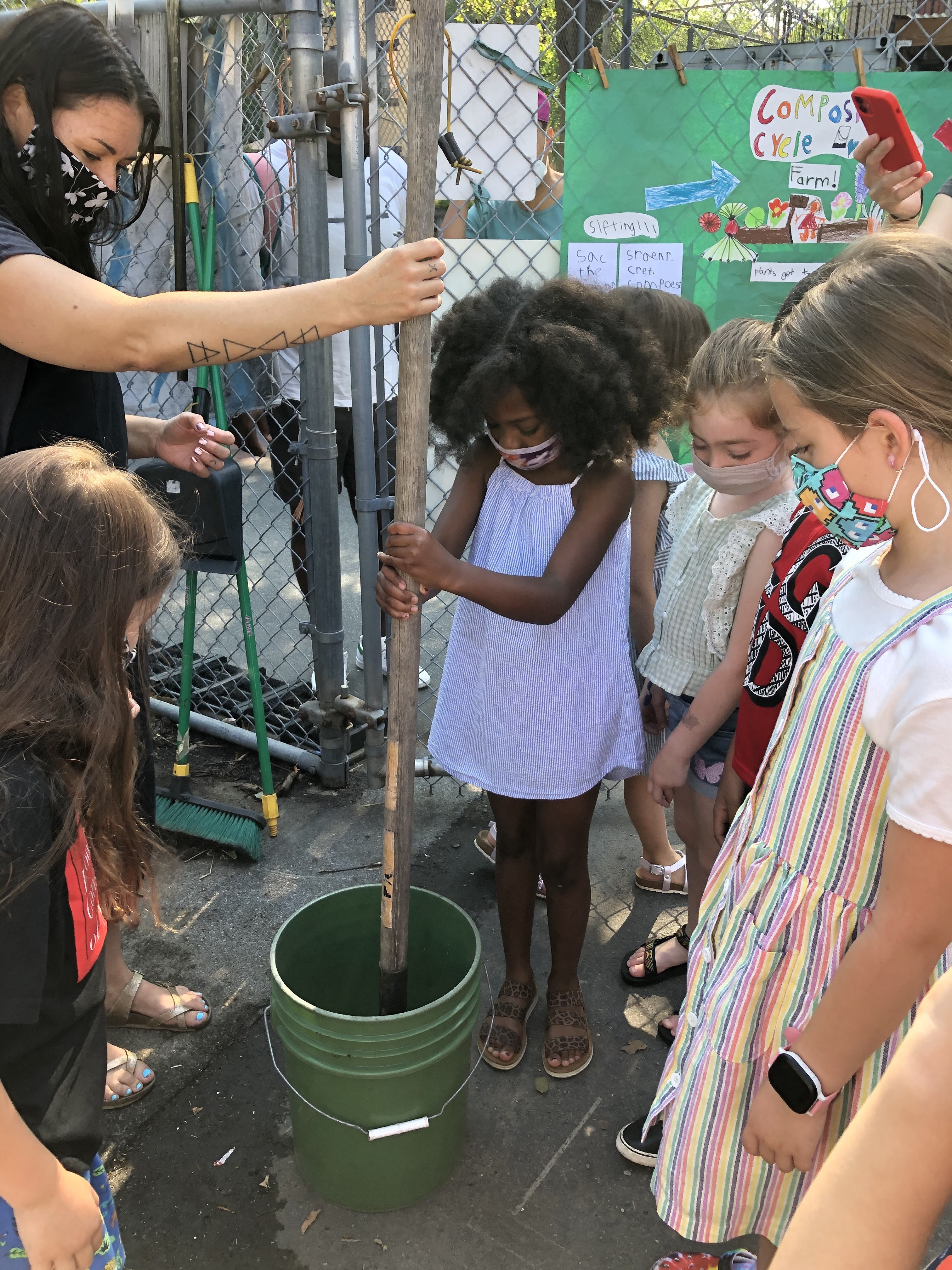 On Thursday and Friday, a group of fifth graders presented "Interrupting Bigotry" – a Theater of the Oppressed-style interactive performance workshopped in May and June by BAX Teaching Artist in Residence José Joaquín García to engage us all in practicing how we can stand up against anti-Asian hatred and all acts of interpersonal bias in everyday life.
At the end of the first performance (live on Rapelye St. for a crowd of deeply engaged fourth and fifth graders), participating actress Emi Mok shared a powerful poem to close the event:
A COUNTRY OF LABOR
By Emi Leanna Mok
Our country,
A home to many and me,
Is built out of labor.
Slaves and immigrants used to make railroads,
Railroads for trains,
Trains that evolved into subways.
"We hold these truths to be self evident that all men are created equal",
You'd think that even after,
Those very lines were written,
You wouldn't find a ten-year-old,
Asian-American girl living in New York City,
With grandparents who are afraid to ride those very subways,
In fear that they would be pushed to the ground,
With accusations of starting this virus,
That they too are struggling through.
But yes, many,
Are afraid, because of these very reasons.
Hate crimes throughout the world,
Against Asian-Americans.
And I carry one message with me:
Stop the hate.
Alone, we all ain't that great,
Together, We can dream of a better forever.♡
This week we will see more June Shares, some outside and some on Zoom. Make sure you know when your child's class is participating.
Fourth grade Performance Based Assessment started today with students from Jess and Carrie's class presenting their work, some in person and some on Zoom. We are still looking for volunteers to help with this assessment process.
Tomorrow is Day 2 and we really need at least one remote panelist to make sure our kids have a rich experience. Day one was great! If you can join on zoom from 9:00 – 12:00 tomorrow, email Diane.
Today also was our first on site field day, this one for A Group's Pre-K, kindergarten and first grade. The intermittent rain slowed down our start, but soon we were off to play! Remember that field day will happen rain or shine as there are simply no days left for postponement! Obviously if it pours, we will have to bring some of the activities inside.
All of this celebration will lead to our favorite day of the year on Friday: fifth grade graduation. This will be our first ever ceremony outside, right on Rapelye Street. Let's hope for good weather. Our resilient fifth graders deserve at least that.
All for now,
Anna, Diane & Malika
FIELD DAY DATES
| | |
| --- | --- |
| Monday 6/14 | Pre-K / K / 1, A cohort |
| Tuesday 6/15 | Grades 2 / 3, A cohort |
| Thursday 6/17 | Pre-K / K / 1, B cohort |
| Monday 6/21 | Grades 4 / 5, A cohort |
| Wednesday 6/23 | Grades 2 / 3, B cohort |
| Thursday 6/24 | Grades 4 / 5, B cohort |
Check Konstella for zoom links: